SITE ASSESSMENT SERVICES
Phase I Environmental Site Assessments (ESA)
Innovative Environmental Solutions, Inc. (Innovative) employees have performed Phase I environmental site assessments (ESAs) at over 600 locations throughout Michigan. Each Phase I ESA is completed in accordance with the ASTM E 1527- 05 standard.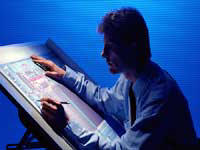 Phase I ESAs start at $1,800.00 for an undeveloped lot and increase in price based on the size of the property and the size and number of buildings the property contains. Normal completion time is 3-4 weeks from the date the proposal is executed and received by Innovative. Approximately 25% of our Phase I ESAs are fast-track projects with a completion timeframe of less than 2 weeks.

Innovative's team of over 15 scientists pride themselves in compiling one of the highest quality, user friendly, Phase I ESA reports in the industry. Our reports come with detailed color CAD generated maps and color photographs. The text in Innovative's Phase I ESA report is easy to follow and provides an Executive Summary for quick reference and a concise analysis of our extensive field and historical research activities.

Our Phase I ESA reports are used by our clients and their financial partners as environmental insurance policies. Since our projects often exceed the requirements of the ASTM E 1527-05 standard, they act as insurance against the discovery of an unknown and/or undetectable environmental concern. Innovative's report can be relied upon to provide protection against state and federal environmental enforcement actions.

For further information regarding Phase I ESAs please contact Jerome Meyer at (800) 533-7474 and/or jmeyer@ies-environmental.com or James Springstead at (800) 553-7474 and/or jsprings@ies-environmental.com.